Fireside Chat with Jon Medved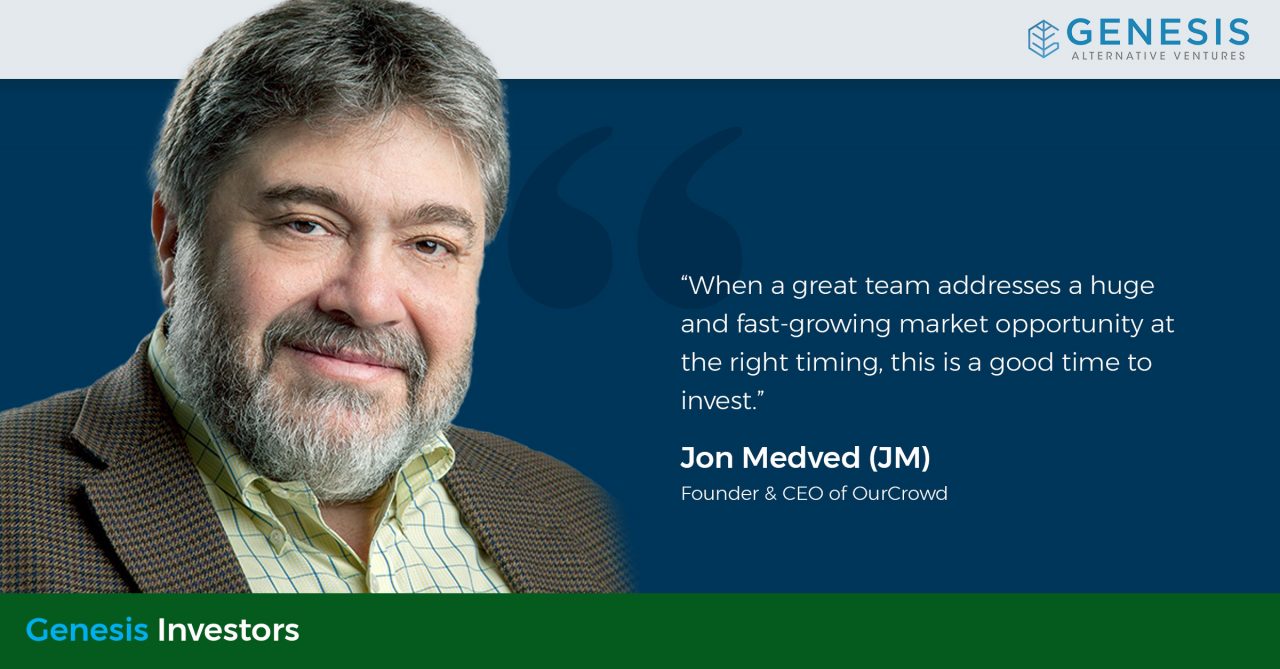 Genesis welcomes our latest Limited Partner, OurCrowd, is a global venture investing platform that empowers institutions and individuals to invest and engage in emerging companies. OurCrowd manages more than $1.9B in committed funds for its 300+ portfolio companies and venture funds.
We sat down with Jon Medved (JM), Founder & CEO of OurCrowd. John is a serial entrepreneur and investor, who has been named by the Washington Post as "one of Israel's leading high tech venture capitalists" and by the New York Times among the "top 10 most influential Americans who have impacted Israel.
Q1: You've been in the startup industry for a very long time. What is it that excites you about the industry?
JM: Startups are the lifeblood of technological innovation and progress. Decades ago, Lockheed Martin invented Skunk Works, and Xerox created Xerox Park, where the brightest minds could dream up big ideas unhindered by stultifying corporate red tape.
Today, the smartest companies in the world – including all the tech giants – realize that the only way to bring innovation into their products is to scout for startups developing relevant tech, invest in them, and snap them up. Today's entrepreneurs have become Rockstars who are often celebrated and admired. They are responsible for building the world's largest companies who have completely transformed our lives. Startups are developing the tech we need for computing, communication, and commerce, not just for the tech industry alone, but to address the critical issues of our time: food production, healthcare, clean water, sustainable energy and much, much more.
As a venture capitalist, I have the privilege of enabling visionary founders and innovators by connecting them with the investors who can fuel their startups and transform their dreams into commercial reality. Our companies literally save lives, heal the sick, and provide fresh food, water and clean energy where it's most needed. They protect critical infrastructure from cyber-attacks. They provide the digital tools that help businesses grow. They entertain and they create employment. And when they succeed, they repay their investors many times over. It's the best job in the world.
Q2: OurCrowd is a well-known equity investor and you've now launched a venture debt strategy. Can you tell us your rationale? What has been the reaction from your investors and startups?
JM: OurCrowd's mission was always to democratize access to private markets, so in that sense it's just a natural continuation of our journey. This initiative also came at a perfect time. Demand for venture debt is at an all-time high as entrepreneurs and investors alike realize its critical importance in the market.
This new debt product serves us in two ways. It allows us to further support our portfolio companies by offering them non-dilutive financing, which is highly relevant given the decline in valuations and the desire to avoid serious dilution from a down round. It also expands our value proposition to our investors with a cash-generating facility that provides steady income and much shorter duration than the equity investments. We are getting great feedback from both portfolio companies and investors for adding this new asset class, as evidenced by the oversubscribed Genesis first close.
Q3: Why did you choose to partner with Genesis?
JM: We decided to partner with Genesis because of the Genesis team's strong domain expertise, with 40 years of VD/VC/PE experience and $100m+ venture debt deals executed. They are probably the most experienced venture debt team in Southeast Asia. The team's performance speaks for itself in the early results from Fund I.
Genesis also gives us access to a unique market opportunity. Venture debt is growing strongly across Southeast Asia and high-growth companies that raise venture debt typically do so concurrently with an equity fund raise. In 2021, a record $621B was invested into global startups with $25B injected into companies in Southeast Asia. This represents a 3x increase over equity raised in 2020.
OurCrowd also likes to invest alongside strong LPs, like the Fund I investors who also decided to invest in Fund II and include some of the strongest institutional investors in the region. Moreover, we know many of the key members of the funds management for many years, and not only like them and appreciate them as fine human beings, but we continually are amazed by their talent and high ethical standards. When a great team addresses a huge and fast-growing market opportunity at the right timing, this is a good time to invest.
Q4: Where do you see the venture capital industry, especially venture debt, going in the next 5 years in SEA and Israel?
JM: A typical benchmark used by research analysts is to estimate the total size of the venture debt market as a percentage of total venture capital invested during a given year. Estimates are that the venture debt market in SEA represents ~2-5% and in Israel ~5-10% compared to 15-20% in the US. These two markets achieved fundraising records in 2021. Israeli startups raised $25.4b, a 136% increase on the previous year, while SEA startups raised $25.7b, a 167% YOY increase. We believe that the record VC money raised in 2021, maturing of the market and strong demand for venture debt amid the current global slowdown will continue to be the main drivers pushing the growth of this market.
Q5: How and where can startups in SEA and Israel collaborate together?
JM: Startups are shrinking the world. Cross-cultural collaboration is essential for innovation, because it breaks boundaries of thinking and attitude. Just look at how many of the top tech executives in the US are immigrants. One of Israel's great strengths that has helped make our tiny country a global tech powerhouse is the fact that our population comes from more than 100 different countries, creating a rich cultural diversity that expands knowledge and thinking. Every time an Israeli startup begins a collaboration with a partner or customer from another country, it adds to its experience and effectiveness.
We are now seeing the same phenomenon in our new relationship with the Gulf states following the signing of the Abraham Accords, where Emiratis and Israelis are bringing different and complementary skills and experience to bear on a wide variety of issues and creating something brand new and even more exciting. In the same way, collaboration between startups in SEA and Israel can only enrich everyone involved and expand their horizons. Israeli companies can benefit from SEA skills in scale up and manufacturing, SEA companies can benefit from Israeli R&D prowess and deep tech innovation.
Q6: What do you look for in a founder or founding team?
JM: OurCrowd vets hundreds of startups every month and chooses perhaps one or two percent to add to our platform. Our founders must display technological excellence, relevant experience, original proprietary technology, good management skills and commercial sensibility. It is very rare for one person to have all those skills, so we tend to invest in teams of founders whose skills and experience combine to create the right group to establish, lead and build a company with a potentially commercial product. Moreover, we want to work closely with our teams, so it helps to like them!
Q7: What are the challenges and opportunities that you are seeing in the tech industry?
JM: The world is in crisis. We need answers to the critical issues facing our planet and its people. Startups can create the technology we need to fix the world. Just look at BioNTech, a startup founded by Turkish immigrants in Germany that created the vaccine marketed by Pfizer. Startups that tinker with problems that no-one needs to solve will not survive. But founders who identify a real problem, develop a practical, commercial solution and find a way to market will continue to succeed.
Q8: Any advice to founders on weathering the current downturn?
JM: This market correction was almost mandatory if you look at the soaring valuations of the past few years. Founders can no longer expect to enjoy the soaring double-digit price/revenue ratios that we have seen. There is still a lot of venture capital waiting to be deployed, but investors will want to see realistic business models and more modest spending. Founders should trim costs, extend their runway, and turn to alternative financing like venture debt instead of dreaming of huge cash injections from selling off tiny parcels of equity at high valuations.
Q9: What is your favourite movie and why?
JM: It's A Wonderful Life. No explanation necessary.
Q10: What's next for you?
JM: I have the greatest job and the cutest grandchildren in the world. I'm staying right here with them in Jerusalem, the most beautiful city on Earth.