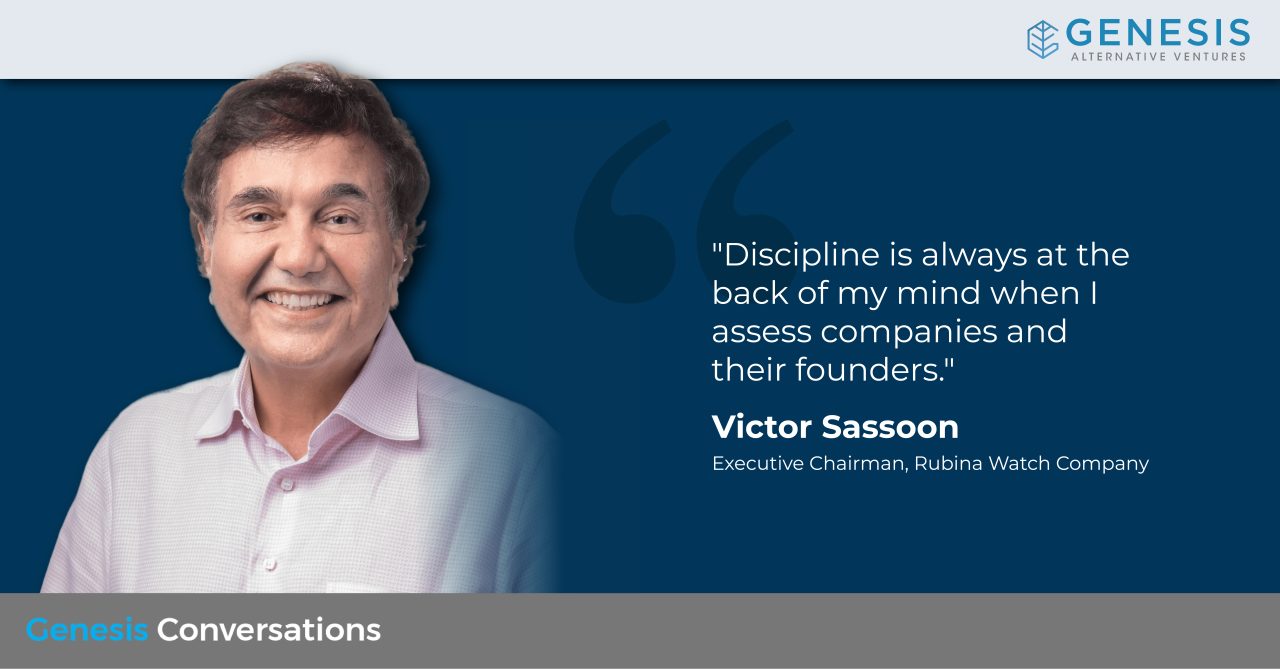 ---
Victor Sassoon is Executive Chairman, Rubina Watch Company, a luxury timepiece and fashion retail and distribution platform across Southeast Asia representing iconic global brands such as Berluti, Cartier, Chanel, Fendi, Fossil, Panerai, Rolex, TAG Heuer, Tory Burch, Valentino, among others.
He chairs Sassoon Investment Corporation (SassCorp), the family's investment vehicle. With offices in Los Angeles, Jakarta, and Singapore, SassCorp invests across various sectors including real estate and high-growth technology companies in Israel, Southeast Asia, and the U.S. SassCorp is also an investor in both Genesis Funds I & II.
In 1990, Victor founded SunVic Productions, a media and entertainment company that organised over 100 large-scale events across Asian cities including live concerts by Metallica, Michael Jackson and Whitney Houston, and more recently, hosted Maestro Zubin Mehta with the Israel Philharmonic Orchestra in 2014 as part of SG50 national celebrations and again in 2016 at the Esplanade Concert Hall. For his contributions, Victor was recognised by the Singapore Tourism Board as 'Tourism Entrepreneur of the Year' in 2000.
Victor is probably best known for introducing second-wave coffee to Southeast Asia in 1996 with the launch of The Coffee Bean & Tea Leaf in Singapore and Malaysia. The Sassoon family acquired the US-based parent company in 1998 and built it into one of the world's largest specialty coffee chains before divesting the business in 2019.
In this rare interview, Victor shares his views on building successful businesses, managing risks, investments, and his plans for the futures.
Can you share with us how you started in the luxury timepiece business?
Rubina Watch was started by my father in 1966 as a wholesale business with factories in Indonesia and Singapore to assemble mechanical watches. Unfortunately, the Singapore market was too small back then, so he closed the factory here and moved back to Indonesia. So I followed him back to Indonesia as a child.
My father would always take me around to meet with distributors in the suburbs of Indonesia, after school, during the weekends and holidays. And that was how I got started in the business and I learnt a lot from him. But over time, I had a different idea of where the business should go. I am forever grateful to him for guiding and mentoring me and later, giving me the independence and trust to run the business. He continued to advise me later on in my other ventures as well.
How we started in the luxury end of the business was through my brother who was based in Los Angeles, USA. He was friendly with the owners of the Gucci watch business, so we negotiated a deal to bring the brand to Indonesia. The first one is always the hardest and thereafter, we managed to persuade other brands like TAG Heuer, Cartier, Piaget, Jaeger-LeCoultre, Hublot and even Rolex. We also started the first Cartier boutique in Indonesia, followed by multiple watch boutiques. Then we extended further into fashion brands like Fendi, Valentino and Chanel. We still represent these brands in Indonesia today.
How did you manage to retain these relationships with the principals over such a long period?
Our philosophy is a bit different because we are not traders. We believe in representing the brands well – from the in-store experience to the after-sales service and that is why the brand owners trust us. We invested in the brands by, for instance, opening a dedicated service center and regularly training our frontline staff so that they represent the brands well. The owners know that their brands are in good hands with us and that is how we built such strong relationships.
From the luxury timepiece business, how did you make the leap into the entertainment business?
How we got into the entertainment business was by chance. One day an acquaintance of mine came into the office and said, "I know this master illusionist David Copperfield and I can get him to tour Asia. But I don't know how to set up and promote concerts." Well, at that point, neither did I! But I took a calculated risk and decided to try.
David Copperfield was our first show in Singapore, and it was pretty much sold out. For me, it was a very good experience, but it was not easy. To pull together a show, you have to first cut the deal and then handle the operations from sound, lighting, ticketing, security, promotions, licensing, etc. and I learnt all the different aspects of the business by doing.
Every business has its own logic, you have to just understand it and then learn as you go and quickly course correct as needed. To make it work, we needed scale and I had the advantage of being able to buy for multiple countries like India, Indonesia, Malaysia, Singapore and Thailand. And that's how we could produce about 60 to 80 shows over a ten-year period, with big names like Jon Bon Jovi, Janet Jackson, Metallica, Michael Jackson, Paula Abdul, Phil Collins, Sting and Whitney Houston, etc.

It sounds like a lot of fun. What was your most memorable concert?
Of the most memorable ones was the Metallica concert in Jakarta in 1993. In fact, there were more people outside the stadium than inside. A riot was unfolding before our eyes. The band asked me what they should do. And I advised them to at least play a few songs while I figured out a way to maintain safety. So we opened the main doors to let people in and for those who couldn't get in, they could at least hear the music.
My next concern was to navigate the band safely out of the area through the crowd. Then with a moment of inspiration, I decided to call for some ambulances to the backstage area because I knew the crowd would never touch the ambulances. Not many people know this, but Metallica got out of the area in the safety of those ambulances. To be successful, you have to think and act fast!
From concerts to coffee, what sparked that?
Oh, there is a link between the concert and coffee businesses! While the entertainment side of the business was moving along nicely, we realized that in Singapore at that time if you wanted a coffee and a pastry, there was only Delifrance at a certain price range. It was either Delifrance or a hotel cafe. And Delifrance was doing a roaring business. So, we thought, maybe a specialty coffee lifestyle concept could work in Singapore. As we discussed it, my brother who lives in Los Angeles said, why not take a look at The Coffee Bean & Tea Leaf? There was one in Beverly Hills near his home and there was always a long queue.
At that time, singer-dancer Paula Abdul was performing in Singapore, so I asked her about The Coffee Bean & Tea Leaf. And she said to me, "Victor, it is the best brand. It has the best ice blended!" So that was it. Because we had no idea about the coffee and cafe business, we hired a consultant and went to the US to pitch for a franchise, which we got for Malaysia, Singapore, and a few other countries.
Our first Coffee Bean & Tea Leaf cafe opened at Scotts Shopping Center in November 1997. Even though Delifrance was in the same building and across the road, the queues were just crazy.

I understand you grew The Coffee Bean & Tea Leaf during the Asian financial crisis of 1997-98
Yes, it may seem contrary to expand an F&B business during an economic crisis, but we could get better rentals and better locations. And it really worked because people just loved the concept and the product.
Why do you think that is?
There was one requirement I was very particular about – consistent high-quality product. I even worked at a store for a few days so that I knew what would and would not work.
Our point of difference was that we were the only company that used good quality chocolate powder and vanilla powder, whereas the competition used syrup. We had our own unique and distinctive flavor and aftertaste.
The Coffee Bean & Tea Leaf became so successful in Asia that at one point, we were opening more stores in Asia than the franchisor was in the USA. Then we realized that for this to be a bigger and more sustainable business, we had to buy and own the brand.
What did not work so well?
In hindsight, if I am able to choose all over again, I would have chosen to open CBTL in Hong Kong, rather than Taiwan. At that time, Hong Kong had more shopping malls than Taiwan, which were mostly street shops. Furthermore, the rentals in Taiwan were very high. So while Taiwan had a strong market for the concept, they did not have the right environment for it. So at that time, if I had opted for Hong Kong, we would have done much better in the long run, also because it would have had a direct bearing on the China market eventually. But we made mistakes and learnt from them.

What did you learn from this experience?
You must have the instinct to understand when it is enough. You can't chase the dragon. The most important thing is that you have limited time and capacity – what are the opportunity costs to what you're doing? Are you missing any opportunities in the meantime?
And that is why we decided to stop the concert business as it got too expensive to bring in foreign acts with the devaluation of Asian currencies. And we have a few fashion lines in Singapore that did not work well which we also decided to pull the plug on.
Now that you are spending more time with SassCorp, your family office and investment vehicle, can you share what you look for before investing in any businesses?
In terms of portfolio, I look for tech-based opportunities in South-east Asia and Israel to invest in. I find this very exciting as the eco-system is evolving very quickly and I am learning new things every day.
One of the first things I look for is discipline in the founding team and partners. Do they have the passion and execution to bring their ideas to life? I will look at project sales numbers and see how they hit it. If they miss it by ten, fifteen per cent for instance, then I'd look at other financials, salespeople, and the team themself. Because I came from the operating side, I have that advantage of knowing instinctively if the brand can still be relevant in five, ten years' time. Do the founders have the discipline to innovate so as extend their runway? Discipline is always at the back of my mind when I assess companies and their founders.

What are your plans for the next five years?
I would like to spend more time with my wife, five children, and eight grandkids. I would like to continue to give back to the community. I was the President of the Jewish Community in Singapore for over ten years and I am still on the Advisory Board. I foresee more philanthropic projects too. I also sit on a few advisory boards of venture capital funds and it's my passion to engage with entrepreneurs and share my experience – but only if they want it!
I want to add that I would not have gotten to where I am today without my very talented wife, Michelle, who was with me from day one, building our family and these businesses.
This conversation was originally held on February 16th, 2022. Reproduced with kind permission from SNAPP by Silverhorn. Snapp is an invite-only thought leadership community of like-minded individuals vested in the Asian growth story.
+++++
---